Happy Thurs.
Hi~ya All!
How you bee?? I hope everyone is doing well today. It is almost the weekend again. I just wanted to share with you
my new blog design
makeover. I now have a
three column design
on both my blogs. I like this much better, since I have so much on my sidebars. Now you won't have to scroll all the way to the bottom to find things. No one had commented on it, so I thought I would inspire you to take a peek.
On another note, my D/T sister
Amyee
from the
Cuttlebug Spot
gave me another awesome award. Thank you so much Amyee, I'm just getting around to posting it. Be sure to go and visit
Amyee's blog
she does an amazing job creating. Looking for inspiration, you will certainly find some here. This award is for all you
Kreativ Bloggers
out there, feel free to grab it. Catcha later!
"Um Buggin"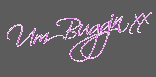 <