Happy Thurs.!
Hi everyone,
A quick little post here, as I promised to post these cards today. I was requested by a friend to make a thank you card for her sons teacher. She wanted something very simple and inexpensive. These cuts of paper are from my stash, that I have had for a while, and decided to use it on the cards. I used my
Cricut E.,
and the
MTG cartridge
which really has some cute cuts on it for school. The apple and the award are from that cartridge. I also used
SU's
family phases stamps
for the sentiment, and doodled in white ink. Added a few embellishments and here you have two simple cards. TFL, and have a great day!
"Um Buggin"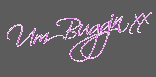 <